Air pollution and other environmental issues have received increasing global attention. Environmental protection policies are being vigorously implemented all over the world, and the automotive and industrial manufacturing fields are also actively transforming. The birth and development of new energy vehicles are not only strongly supported by policies of various countries, but their low-carbon, environmentally-friendly and sustainable development concepts are increasingly recognized by consumers.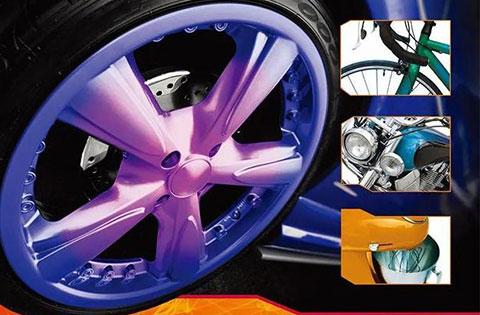 PPG industrial coatings are known for their innovative, green and environmentally friendly business philosophy, high-performance products, and world-class services. As a world-renowned coating R&D and production company, PPG has been paying attention to and continuously exploring innovative coating technologies that match the development of new energy vehicles.
From body electrophoretic paint to chassis, from automotive interior coating to metal exterior parts, PPG can be seen everywhere in mainstream new energy vehicles. Our battery system high insulation coatings, anti-glare electronic screen coatings, and excellent performance and cool color wheel hub water-based coatings, etc., can equip new energy vehicles with cutting-edge technology full of sense of science and technology.

PPG aluminum alloy wheel coating
Environmental performance, first to meet the new national standard
The development of new energy vehicles shoulders the mission of reducing exhaust emissions, reducing energy consumption, and improving air quality. Major well-known electric vehicle manufacturers attach great importance to environmental issues in their production and coating processes. PPG industrial coatings have the industry's top level in water-based paint, scientific spraying, and VOC treatment, which can better realize the concept of "low carbon, environmental protection and sustainable development" of new energy vehicle factories.

Take wheel products as an example. As early as the release of the draft of the new national standard GB 24409, PPG Wheel Coatings has already completed the certification of low VOC varnishes and enriched the product platform of wheel paints by leveraging on the resource advantages of the PPG global technology platform. , Can help customers plan ahead and plan ahead.
On the color paint platform, as early as the introduction of the VOC paint consumption tax in 2015, the PPG solvent-based color paint platform has begun product improvement and optimization. At present, all solvent-based products on sale have met the requirements of the new national standard GB 24409. In terms of water-based paints, because PPG has long been committed to developing a new generation of water-based products, in addition to meeting the new GB24409 national mandatory standards, PPG wheel hub water-based paints have lower VOCs and wider product construction performance, far exceeding the industry average level.

1. Water-based matte paint fills the gap in the industry
In recent years, colors with matte effects have gradually become popular on wheels, and major OEMs are also racing to develop their own color standards for matte effects. However, due to technical limitations, the matte varnish has been limited to solvent-based products, which makes wheel coating to achieve low VOC effects unsatisfactory.
After several years of painstaking development, PPG has launched a water-based matte varnish that can be used for wheel coating, filling the gap in the industry, and is the first domestic global brand that can provide water-based matte varnish for aluminum alloy wheels. The performance can meet the product requirements of mainstream OEMs, and the aging resistance is outstanding, the construction is convenient, and the pipeline cleaning is simple and convenient.

2. Cool colors, full of sense of technology
Compared with traditional vehicles, new energy vehicles have a stronger sense of science and technology and a more fashionable and gorgeous appearance. The cooperation with the color design department of the new energy vehicle factory has given us a deep understanding of designers' ultimate pursuit of appearance texture.

PPG Wheel Paint Division has established a color development team, relying on high-quality product platforms, and continuously improving the "sense of science and technology" of colors. From global trend analysis of popular colors to customer-oriented color customization development, our team strives Provide customers with colorful water-based wheel coatings to meet different design concepts and highlight the high-tech style of the brand.

3. New coating solutions for new substrates, new coating carbon fiber, magnesium aluminum alloy
In addition to paying attention to safety performance, new energy vehicles have also worked hard on low energy consumption and high mileage. In order to reduce the weight of the entire vehicle, new energy vehicles are also constantly developing and exploring innovative applications for lightweight wheels such as carbon fiber and magnesium alloy. According to experiments, under the premise of the same safety, the weight of the wheel is reduced by 10%, and the energy consumption will be reduced by 6-8%. The change of wheel material has brought new challenges to the coating, especially the carbon fiber substrate, which makes the traditional coating material of the wheel essential change, from the original base powder, color paint and transparent powder to low-temperature curing Primer, paint and varnish.
In this regard, our technical team has done a new program verification and technical reserves. With PPG's strong global R&D capabilities and technology platform, we have found suitable low-temperature products and upgraded related technologies to provide customers with a complete set of innovative coating solutions in the coating application of new materials.
From liquid, powder, electrophoretic paint, to pre-treatment, PPG industrial coatings can provide you with all kinds of coatings and pre-treatment products used in the production process of various wheel hub substrates and hubs. We have a wealth of products for you to choose from, and can also be customized according to your needs. PPG consistently provides you with professional coating solutions and technical support.
  We are engaged in the production and independent import and export of aluminum alloy wheel in china, with more than 2,0000 models of aluminum alloy wheels, about 100,000 inventories, and fast delivery. We provide custom wheels and generation production services, you can provide us with a wheel style map, our designers will design you a beautiful and high quality wheel, welcome to contact us!
  If you don't find the wheel style you need, you can send an email to jihoowheels@jihoosh.com and we will send you the wheel style you need according to your description!We will provide you with quality China wheel and excellent service.