Autowheels are easily scratched by stones or harmful substances from insects, causing the wheels to rust easily. Many car owners will also protect the wheels. So should the car wheels be painted or electroplated? Many car enthusiasts will be particularly entangled, so today I will tell you how to choose to protect car wheels.
Advantages and disadvantages of automobile wheel painting: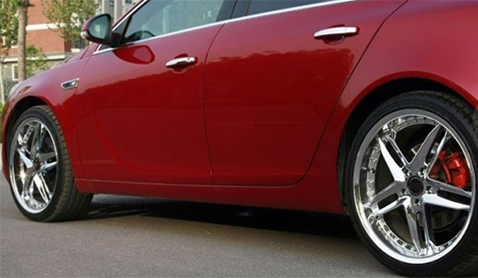 Wheel spray painting is a technical job. If the paint does not scratch, it can usually maintain 5-6 grandma without discoloration or falling off, and the price is moderate. The only disadvantage is that the wheel needs to be polished, which will cause some damage to the primer. Of course, there are many points to pay attention to in the process of wheel painting. It is not simply spraying special paint on the wheel. Therefore, it is not recommended to buy wheel self-painting on a certain treasure. This kind of self-painting has poor adhesion and it will not take long. It is easy to fall off, even if it is imported, it will not work. The wheels will be ugly for a few months at most. If you want to paint the wheels, it is best to go to a local professional sheet spray center or beauty chain store. The riders in Shenzhen pay attention, the wheel hub anti-rust spray paint technology is very good.
Advantages and disadvantages of automobile wheel plating:
Alunminum alloy wheels plating is equivalent to putting a coat on the wheel hub, which can also effectively protect the wheel hub, and it is also very cool, but the price of plating is still relatively expensive, and the time period that can be maintained is not particularly long, if it is accidentally scratched , It will be difficult to repair, and the price of repair is also high. But it is undeniable that the effect of electroplating is still very good, giving people a bright and eye-catching feel.
Conclusion
So is the wheel spray paint better or electroplated? The editor gives a pertinent opinion: From the point of view of most riders, it is better to spray paint for wheel hub protection, because the wheel hub is painted for a long time, the price is moderate, and it can protect the wheel well. Of course, if the car fan's wallet is bulging, then the wheel plating is a good choice. After all, the effect of plating is still very cool. As for the aging, it is not considered. If the aging is over, continue to plate crystals.
  We are engaged in the production and independent import and export of aluminum alloy wheel in china, with more than 2,0000 models of aluminum alloy wheels, about 100,000 inventories, and fast delivery. We provide custom wheels and generation production services, you can provide us with a wheel style map, our designers will design you a beautiful and high quality wheel, welcome to contact us!
  If you don't find the wheel style you need, you can send an email to jihoowheels@jihoosh.com and we will send you the wheel style you need according to your description!We will provide you with quality China wheel and excellent service.