With the rapid development of the global economy, major auto companies have also developed well. Among them, the most outstanding brands are Volkswagen, Honda and Toyota. Because they have achieved great success in domestic automobiles with their excellent car-making technology, they have become the most popular joint venture brands. In particular, Volkswagen's cars have always been loved by Chinese people. Nowadays, in order to win a larger market share, another joint venture suv has been unveiled. The two-color body is equipped with large-size wheels, which is more beautiful than the h6, and it is the Skoda Vision X. Since this car was unveiled, it has had a good degree of attention, which is enough to explain its excellence. Secondly, the workmanship and materials of the whole car are very good, and it has been praised by many fans.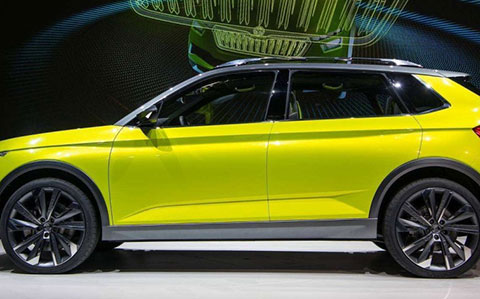 Skoda VISION X is a compact SUV under the Volkswagen sub-brand. It not only has excellent product strength, but also is very satisfactory in terms of quality control. In addition, it has done a very good job in the exterior and interior parts, which has captured the attention of many people, which is enough to explain its charm. In short, this new car has a good charm and a very high appearance, which is a dish for many young people. Let's take a closer look at this car together.

Skoda Vision X is stylish and beautiful in appearance. First of all, the front face uses a polygonal air intake grille, coupled with sharp-shaped LED headlights on both sides, and is connected to the China grid. It looks like the front face is very wide and beautiful. In addition, the chrome-plated front insurance design enhances the sporty atmosphere of the vehicle to a certain extent.

The side design, Skoda VISION X is also a major attraction, using a slender waistline, coupled with a suspended roof and five-spoke aluminum alloy wheels, showing a full sense of movement. It is worth mentioning that it also has a body length of 4255mm and a wheelbase of 2700mm, which brings more space and becomes its highlight.

In the interior part, Skoda VISION X feels more fashionable, with a "T"-shaped center console, which looks neat and atmospheric, in line with the public's aesthetics. In addition, it is excellent in technology, equipped with a suspended central control screen and a full LCD instrument, giving the car a full sense of technology. It is worth noting that it also adds ambient lights in the car, which makes the interior of the car more emotional. Therefore, it is very suitable for lovers.
In terms of power, Skoda Vision X is expected to be equipped with a 1.5T inline four-cylinder turbo engine with a maximum power of 130 horsepower. The transmission system is matched with a 7-speed dual-clutch gearbox. The comprehensive fuel consumption per 100 kilometers is about 6L, which is very good. In addition, it also has a good chassis tuning, which brings a good sense of driving quality, as stable as a high-speed rail.

In short, after Skoda Vision X is launched in China in the future, if the price is reasonable, it is still very likely to become a dark horse model. After all, its appearance is very high, and it is very rich in configuration.
  We are engaged in the production and independent import and export of aluminum alloy wheel in china, with more than 2,0000 models of aluminum alloy wheels, about 100,000 inventories, and fast delivery. We provide custom wheels and generation production services, you can provide us with a wheel style map, our designers will design you a beautiful and high quality wheel, welcome to contact us!
  If you don't find the wheel style you need, you can send an email to jihoowheels@jihoosh.com and we will send you the wheel style you need according to your description!We will provide you with quality China wheel and excellent service.