With consumers gradually agreeing with the concept of self-branded cars, Hongqi HS5 has achieved good sales results soon after its launch, and many store sales also stated that it takes a while to order a car before it can be picked up, so you can guess By then, Hongqi HS5 may break new sales records just like Hongqi H5. Although the attention of this car is very high now, many consumers have also raised questions: "How to choose the wheel size of Hongqi HS5?" Next, let's analyze, who is more worthy of 18 inch wheels or 20 inch wheels recommend!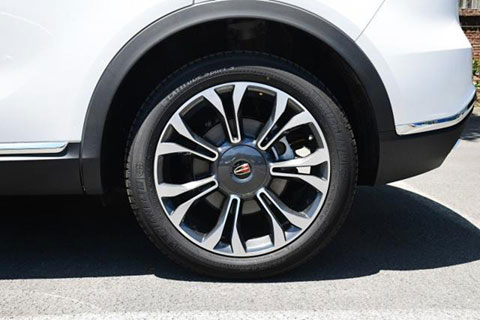 As we all know, is a car good-looking? Is the appearance sufficiently atmospheric? These have a great relationship with the wheel hub, which is like a metaphor for a person wearing brand-name sneakers and slippers, and the impression left by people is different. Therefore, choosing large-size wheels and small-size wheels is the same. In the configuration list, we can see that the Hongqi HS5 low- and mid-range two-wheel drive models use 18 inch wheels, while the mid-range four-wheel drive and high-end models use 20 inch wheels, so there will be visual effects What is the difference?
It can be seen from the side of the body that the Hongqi HS5 with 18 inch wheels looks slightly inferior, giving a visual effect of a beggar version. On the contrary, the visual effect of the Hongqi HS5 with 20 inch wheels is even better. More fashionable and atmospheric. The current data survey shows that most consumers will choose 20 inch wheels, that is, mid-range four-wheel drive and high-end models, which look more aggressive on the road.

However, this part of the car owners ignored the maintenance costs and driving conditions in the later period. According to official information, the 20 inch wheels use Michelin Rumo tires, and the cost of a tire is as high as 2,299 yuan. After reaching a certain number of kilometers, they must be replaced together. Four tires, that is to say, the cost of replacing a tire requires 9196 yuan. Perhaps some car owners may ask whether they can replace other cheaper tires in the future. Of course, it is possible, but it will affect the driving comfort.

Although most car owners are currently driving in better road conditions, mainly urban roads, some car owners buy SUVs for self-driving tours, which also means that the road conditions ahead are not what we can guess. If you choose 20 inch wheels, the sidewalls are too thin, the comfort is poor, and the tires are prone to blowouts. On the contrary, the sidewalls of the 18 inch wheels are slightly thicker, and you can handle some roads with poor road conditions.

After comparing the wheel sizes of the Hongqi HS5, many netizens said: "People who understand cars don't choose 20 inch wheels", and some netizens said: "20 inch wheels are more atmospheric and 18 inch wheels are more practical." We can see from it. Netizens also have their own opinions, but they can all be seen from the perspective of road conditions. Therefore, consumers who are interested in Hongqi HS5 can decide according to their daily road conditions. If they often need to travel In the case of some bad roads, it is still recommended to choose 18-inch wheels to be more practical and reliable!
  We are engaged in the production and independent import and export of aluminum alloy wheel in china, with more than 2,0000 models of aluminum alloy wheels, about 100,000 inventories, and fast delivery. We provide custom wheels and generation production services, you can provide us with a wheel style map, our designers will design you a beautiful and high quality wheel, welcome to contact us!
  If you don't find the wheel style you need, you can send an email to jihoowheels@jihoosh.com and we will send you the wheel style you need according to your description!We will provide you with quality China wheel and excellent service.